I've been using pre-workouts since 2010, and I've burned through quite a few, so let's do this. Here's a rundown of the good, the ok, the bad, and the forgettable.
Note: I know some folks are all about the niacin and the beta-alanine, but I don't do well with either in very high doses, so if I rate a pre-workout less than favorably because of the inclusion of either, well, now you know why. If you love something that I don't, then more power to you for finding that elusive perfect pre-workout for yourself.
Also please be safe with caffeine and other pre-workout stimulants. **I am not a doctor, and I don't intend my anecdotal evidence in this review to be taken as medical advice.** Don't take the max dose of a pre-workout when you don't even do well with a cup of weak coffee. Use common sense please.
ProLab Caffeine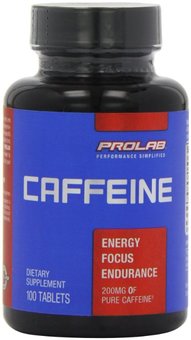 Taste: Chalky. Was confused when it didn't taste like a mento. Seriously though, it's a pill. Swallow it like a normal person.
Caffeine Level: 200mg/pill
Pros: Cheaper and more effective than coffee without the coffee teeth and breath.
Cons: By day three, my tolerance level was at a crazy high level, and it just wasn't cutting it for me anymore. If you are willing to cycle on and off of this, then it's an effective pre-workout, but otherwise, it just isn't consistent enough for me.
Rating: Ok. Just ok, because caffeine by itself just isn't enough for me.
Optimum Nutrition AmiN.O. Energy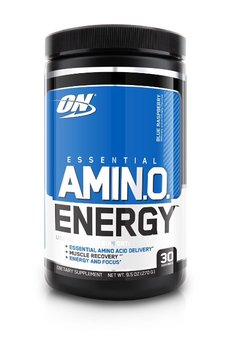 Taste: Blue raspberry is amazing, watermelon is pretty good as well. I am definitely trying blueberry mojito next, because it sounds insanely good. I've tried several of the flavors, and none have been off putting.
Caffeine Level: 100mg/9g serving, or two scoops
Pros: A gold standard in my book, I always seem to go back to this. It provides focus, and an extra boost of energy, and I like that it has amino acids plus caffeine.
Cons: Proprietary blends and beta-alanine keep making me look for alternatives. I don't tolerate beta-alanine very well, so I'd prefer something that doesn't have it. Yes, I know it's an amino acid, and this is called amino energy.
Rating: Good. I don't think I'll ever write this stuff off.
Cellucor C4 Pre-Workout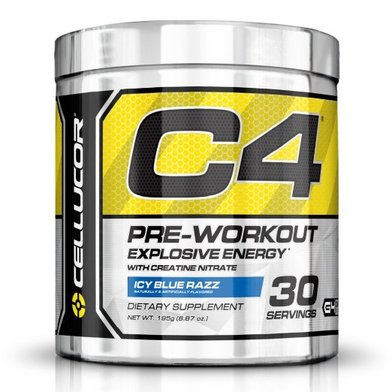 Taste: I've tried the pink lemonade and icy blue razz flavors, both of which were pretty good.
Caffeine Level: 150mg/6.5 g serving, or one scoop
Pros: It's popular for a reason. You can be dragging your feet and feel like there's no way you'll get through leg day, then take a scoop of this and blast through it.
Cons: Proprietary blends, niacin, and beta-alanine. My skin was on fire after using this stuff, so even though I appreciate the energy boost, I just can't deal with the side effects.
Rating: Ok. I just don't do well with it in my system, but it's a solid product if you can handle all the ingredients.
Force Factor Volcano Fury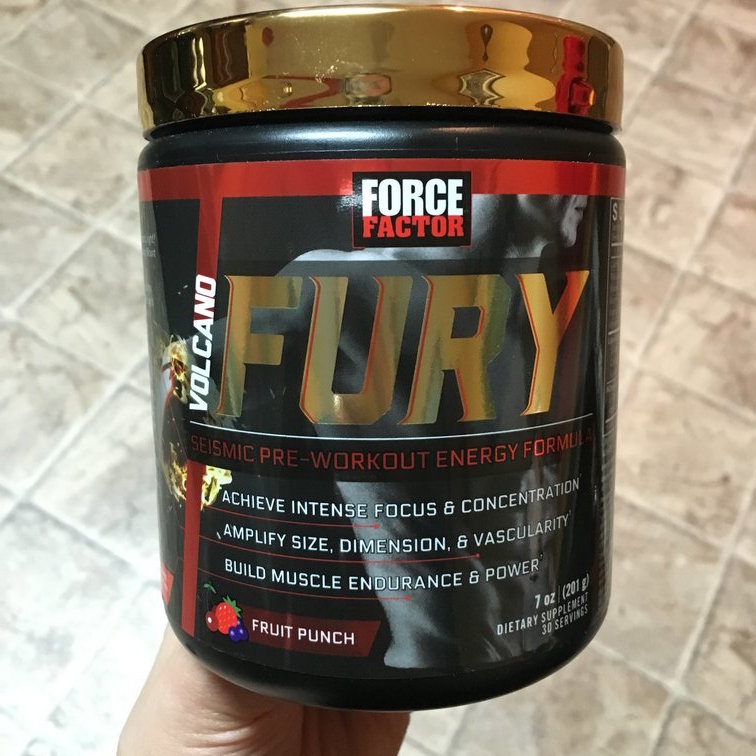 Taste: I've only tried the fruit punch flavor, and it's nothing to call home about. It tastes like a watery fruit punch that you might have been given at school lunches as a kid. It's not that strong of a flavor, so it's not hard to drink, which is a plus.
Caffeine Level: 222mg/6.7g serving, or one scoop
Pros: Tons of caffeine, no beta-alanine and no niacin.
Cons: Proprietary blends, and doesn't really do it for me. I surprisingly don't feel much from this. It's like the gentle whisper of Ryan Gosling saying "hey girl, you can do this" when what I'm looking for is Till from Rammstein growl-screaming in my face that I better make that last rep or ELSE. I don't doubt that this has the stated level of caffeine, but it's just not the kick in the pants I need from a pre-workout. Blame it on my caffeine tolerance level I guess, but I'm not impressed.
Rating: Forgettable. Forgettable like it's already forgotten, in the back of my pantry. Sad and alone with the spiders.
Fitmiss Ignite Women's Pre-Workout + Energy Booster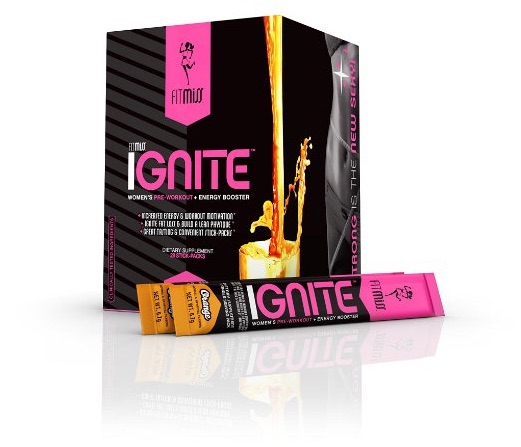 Taste: I've only tried the orange flavor, and it was pretty good.
Caffeine Level: Mystery level! Seriously, I worry about my judgement for buying this without knowing how much caffeine it contains.
Pros: This definitely gives me a good energy boost, and helps me get more out of my workouts. I also absolutely love the concept of individual serving pouches.
Cons: I had to stop taking it because of the beta-alanine. Also, the single serving packs weren't well perforated at the edge meant to tear open, so I had to have access to scissors to open them, which was kind of ridiculous.
Rating: Bad. It's super shady that I can't find any information on the packaging or online about how much caffeine is in this. I even tweeted at them to find out how much was in this, and no response.
---
---
---
---