The more cardio I do, the more I don't want to be doing cardio in a gym. I honestly think time slows down when I'm on the stationary bike. Someone should look into this.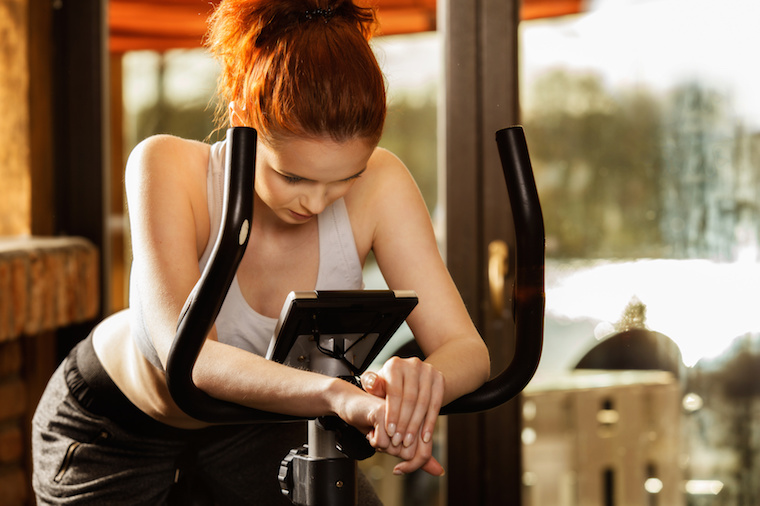 The "I can't believe it's only been 5 minutes" stationary bike face.
I'd rather be outside hiking than on an elliptical machine. I'd rather be swimming than on a stair climber. I'd rather be rock climbing than on a stationary bike. Seriously though, who has time to do all these fun outdoor activities for regular cardio? Not me. Driving out and back to an hour long hiking destination? Nope. Post swim hair conditioning? Forget it. Breaking down everything after a climb and hiking back? Yeah, maybe on vacation. Let's be real, time is not an unlimited resource.
Enter, HIIT, or High Intensity Interval Training. HIIT is performed by alternating high intensity with low intensity during cardio of your choice. After I lift, I'll try to get in 10-20 minutes of stair climber intervals. It's a fast way to burn through calories, and helps with both aerobic and anaerobic conditioning. It also helps torch through fatin a way that low intensity steady state cardio just can't touch.
So how do you get started? Here's an example of an hiit workout I used to do on the treadmill. Set the incline to 2-3% and the speed to 3 MPH. Warm up for a couple of minutes at this speed. Increase the speed to 8 MPH for 1 minute, then recover at 3 MPH for 1 minute. Repeat for 8-10 reps.
If 8 MPH is more like a moderate pace rather than a sprint for you, then increase the fast intervals to 9-10 MPH, increase the incline, or decrease the recovery slow periods. You want the intensity very high followed by a slow or moderate recovery period. You can use this same principal with your favorite type of cardio to create the perfect hiit workout. Enjoy!
---
---
---
---